(pots and fountain available at The Pot Shop)
Let's face it, the gorgeous 20' x 20' pergola I dream of, with patio lights and a chandelier creating ambiance, is way down on the list of priorities for the moment. Sigh.
(source: Houzz)
But, seriously, we need grass in the backyard first. That's just how it works when you have kids at home.
I wanted to be able to enjoy relaxing summer evenings on our patio.
While Bryan was traveling for work last July, the boys and I started brainstorming. After seeing a home near us that had lights hung from wood poles, our creative juices got flowing. We came up with the perfect solution! Even better, when I do get my gorgeous pergola, I can remove the poles easily.
This is one of my favorite projects we have done since moving to this house and it was done in a night with two of the cutest helpers!
Can you imagine what it will look like when our yard is finished? Swoon!
AND… since I spent about $60 on materials, this project didn't break the bank so I won't feel bad taking it down, either!
------------------------------------------------------------------------
Materials:
· (5) 10 ft. metal conduit, 1" width ($7.12 each/$35.60)
· (1) 10 ft. PVC conduit, 1 ½" width ($5.10)
· (4) ¾" One hole conduit strap (4 pack/$0.90)
· (4) screws, found in work bench
· (4) 1" metal tube set screw coupling ($0.70 each/$2.80)
· (2) Cans Valspar Anti-Rust Paint in Peacock Blue ($4.98 each/$9.96)
· (1) Can Black matte spray paint ($4.98)
· (3) 20 ft. Globe Lights from Target, I like clear ($14.99 set/$44.97)
Tools:
· Pipe cutter (if you don't have one, your store can cut for you, if needed)
· Saw
· Screw driver
· Drill and drill bit
· Tarp to paint on
· Sharpie
· Tape Measure
Lights: Our patio is 20' x 30', our poles are about 20' apart. I used three sets. You may need a different amount. I already had the globe lights, so that saved me the largest chunk of the budget and put me at $60 for this project. (FYI… If you do need to purchase lights, Target, by far, has the best pricing. AND, Target now has different colored strings, I'm so tempted to buy more!)
Ready to make yours?
Step 1: Measure, mark and cut the PVC conduit into 4 – two foot. pieces. I started with two poles and will be adding two more for a total of four poles. Paint top and set aside to dry.
Step 2: Measure, mark and cut one metal conduit into 4 - two foot pieces. I wanted my poles to be ten feet tall, so I added two feet to each pole. (When you bury two feet of a ten foot pole, the height of the pole will be eight feet. The lights naturally droop, I didn't think 8 feet in height was enough. There are tall people around here.)
Step 3: Dig a two foot deep hole for each pole and bury the PVC conduit pipe (painted side showing) level with the patio. FYI… On my patio, each pole is about 20' apart from the nearest pole.
(it was so hot, we started later and had to use headlamps to finish digging)
Step 4: Add a two foot section to each pole using a metal tube set screw coupling. Secure with a screw driver.
Step 5: Mark 2 ½" from the top of each metal pole (two foot section is the bottom).
Step 6: Pre-drill a hole where you just marked. This will require some muscle and a little patience (not too much). *Use a metal drill bit.*
Step 7: Hand screw (from the stash) a conduit strap to the top of each pole. The hook will face up.
Step 8: Lay out a paint tarp and spray all four poles in Peacock Blue. This may require more than two cans depending upon how thick the paint gets. Let dry. Tip: use old bricks to lift the poles while painting.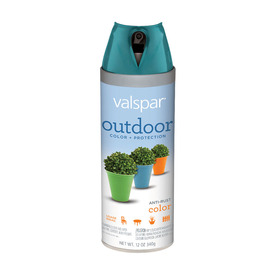 Step 9: Slide metal poles in buried plastic poles.
Step 10: String lights. Be careful with this step, the bulbs are glass and will break. Have a partner help. One holds the lights, the other strings them. Some people will tell you to remove the bulbs, I didn't find that to be necessary.
Step 11: Relax and read a good book.
-------------------------------------------------------------------
When we installed this last summer, we only installed 2 poles and clipped the ends to the gutters. I have already buried two more 2' PVC pipes and will be adding two more poles up to the house. I think it will finish it off nicely.
I will be demonstrating this project on Good Things Utah today and will add a video of the segment here when it is available.
A few more pictures, because I love the way the lights play off the patio features. Everything is a littler better!
We have had the lights hanging for a year now. We left them up through the winter and turned them on during our family Christmas party. The lights are made to stay outside. The whole set up is still looking great and will last us until we can get my dream pergola.
As I said before, this project is most definitely a favorite of mine!

ENJOY!